Medvedi koleno – below Moravska bouda
Medvedi koleno – follow the green-marked tourist trail to Medvedi chalet – follow the yellow-marked tourist trail to Bradlerovy chalet – follow the blue-marked tourist trail for the Ptaci kameny formation – take the trail below Moravska chalet for approx. 1 km1 – ride down the yellow-marked tourist trail to Davidova chalet – take the Skolni Trail along the blue- marked tourist trail either to Medvedi chalet and then the green-marked tourist trail to Medvedi koleno, or take an ascent for 150 m to Bradlerovy chalet1
Be careful around the Medvedi brook – snowslides and avalanches possible2.
Length: 6,2 km
2.
Bobová dráha Špindlerův Mlýn
Pozemní bobová dráha ve Špindlerově Mlýně (1997, délka 1400 m) umožňuje díky unikátní špičkové technologii z nerez oceli atraktivní a vysoce emoční...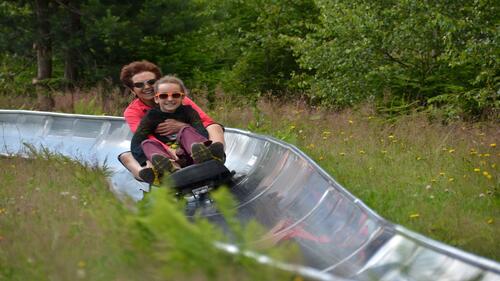 3.
Vrchlabí
kancelář kfjljfdlkjflkdjfklfjdkfjdlk https://www.mestovrchlabi.cz/olympiada-deti-a-mladeze-ve-vrchlabi/d-1952
4.
Lesnická a myslivecká expozice Šindelka
V budově, která je v Harrachově známá jako Šindelka, se od počátku 19. století vyráběla střešní krytina – šindel. Dnes je žulový dům jako jedna z...
Hiking destinations and nearby trails